Durban Budget Big 5 Safari Tour to Hluhluwe-Imfolozi game reserve, St Lucia and Cat rehabilitation centre 3 days, 2 nights.
Knowing that not everyone is able to afford our standard safari packages we have decided to offer our potential clients a "Budget" Durban safari package.
This 3 day and 2 night safari from Durban is exactly the same as the standard package except the accommodation is a smaller room with a shared ablution facility.
Each ablution block, male and female has 3 individual toilet cubicles and 2 to 3 Shower cubicles. These are shared between the 19 available smaller units or Rondavels as we call them. These units have been recently fitted with air-conditioners which makes them actually very comfortable.
Picture of Rondavels at Hilltop camp, Hluhluwe
Durban 3 day safari – Itinerary and information
Near Durban in the province of KwaZulu Natal we are lucky to have many possible options for a South African safari.
We have few large Big 5 Safari national parks and some smaller private game reserves that one could visit around the Durban area.
Hluhluwe Umfolozi game reserve is our most popular of the larger Safari Parks near Durban. A mere 2.5 hours from Durban City we will collected you from your Durban Hotel and guide you from the stunning city of Durban to Hluhluwe Umfolozi game reserve.
We travel comfortably with a Ford Tourneo or Everest(or similar) which is air conditioned and very comfortable.
Your qualified guide will ensure your Durban Safari Tour will be memorable as he shows off what nature and Wildlife Hluhluwe Imfolozi game reserve has to offer!
Being a Big 5 game reserve and malaria free, Hluhluwe Umfolozi game reserve is our most popular Durban Safari Tour ! Your Safari Tour with Tim Brown Tours will be memorable from beginning to end.
Day 1: Durban "Budget" Big 5 – Hluhluwe Umfolozi game reserve 3 Day Safari Tour:
After your guide collects you from your Durban Hotel/B&B or Guest house he will take you on a educational 2.5 – 3 hours drive to Hluhluwe Umfolozi Game reserve – The oldest game reserve in Africa established in 1895.
On route points of interest like the History of Durban, KwaZulu Natal and South Africa are covered as well as different population groups and how the came to be in South Africa. Please feel free to ask any number of questions so you get the most out of the tour.
There is special focus on the Zulu Nation the major "Black African tribe" living in the area as well as the different plantation we come across on route to Hluhluwe Umfolozi game reserve.
Before we get to the game reserve we will stop for an hour and 15 minute at a Cat rehabilitation center outside Hluhluwe.
This is an amazing place where they are trying to get these majestic Wild Cats back to the wild.
There are 4 Species of Cat the Cheetah, Serval, Caracal and African wild cat. We will get to interact on some level with them. The cheetah being the most special as it is a large an intimidating cat.
This is always a great opportunity for a new Facebook profile picture!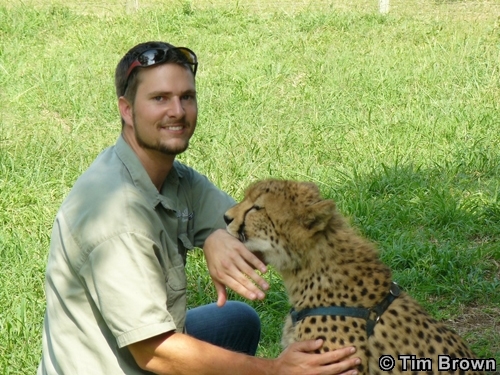 After we are done at the Cat rehab center we take 20 minutes to reach Hluhluwe Umfolozi Uame reserve.
Upon entering game viewing begins immediately and your guide will talk you through the different animal behavior you may encounter.
Hluhluwe Umfolozi game reserve has the highest population of White Rhino in the World for the area of 960 Square Kilometers. Projects in the 1950′s and 1960′s(Operation Rhino) brought back this large prehistoric looking creature from the brink of extinction!
We then stop at Hilltop camp for lunch and to Check in before deciding what time to go back out to look for more animals.
There is also an option of and evening open vehicle game drive from 5pm -8pm. This focuses on predominately Nocturnal animals.
After lunch your Hluhluwe Umfolozi Safari Tour continues and we could encounter any of the Big 5 – The 5 most dangerous animals to hunt of foot : Rhino, Elephant, Buffalo, Lion and Leopard!
Other animals like Giraffe, Zebra and a wide range of antelope species can been seen to keep you interested. Your guide will be able to inform you of different tracks and signs as you make your way through the African Bush on this special Safari experience.
Once we are back its either the optional evening to night drive for a rest and dinner.
Dinner will be at the Hilltop camp restaurant, a traditional buffet will be laid out. This will add to your bush experience especially if the lodge is busy as the staff get up and sing and dance in a traditional Zulu way.
Hluhluwe Umfolozi Big 5 Safari Tour
Day 2: Durban "Budget" Big 5 – Hluhluwe Umfolozi game reserve 3 day Safari Tour
At your guides discretion – After enjoying a buffet breakfast, we head out for a game drive. Leaving Hilltop camp we have the opportunity to see any one of the Big 5 and a variety of Antelope, Giraffe and Zebra. We make our way towards the Umfolozi side of the reserve, where sightings of Lion, Hyena and Black Rhino are more common. The above itinerary can be changed depending on what you may or may not have seen.
The open vehicle game drive is an option that can be taken at 5pm – 8pm at night where the guide will use a spotlight to find animals after dusk. This gives you more chance for finding the Cats as the Lion and Leopard are Nocturnal.
Dinner is at the Hilltop camp restaurant, a hot and cold buffet with a variety of traditional African and international dishes. There is also a lovely bar at the restaurant which you can have a drink at chatting about the days adventures. Amarula cream on crushed ice is one you have to try!
Day 3: Durban "Budget" Big 5 – Hluhluwe Imfolozi game reserve 3 day Safari Tour
A final buffet breakfast is followed by a game drive with your safari guide. This is a final chance to find what we have not or a chance to recap on what we have seen. We will then make our way out of Hluhluwe Imfolozi Game Reserve and onto the St Lucia Estuary-Isimangeliso Wetland park, for a 2 hour boat cruise along the Estuary. Here we will have the opportunity to see, Crocodile, Hippo, Fish Eagles, King Fishers as well as Monitor Lizards. A perfect opportunity for photographers to capture the beauty of South Africa's 1st World Heritage Site!
After we are finished with the excitement of seeing all those Hippos on the boat cruise it is time for some Lunch in St Lucia town before heading back to Durban feeling really satisfied with our Durban safari.
Durban Budget Big 5 Safari Tour Price – Based on a minimum of 2 Clients R6200.00 per person sharing, Group Rates are available on request. A single Supplement of R950.00 for clients that wish to have there own room.
Solo Traveler rate: R10500
Please note: Lunch is not included in the price quoted. We do provide bottled mineral waters daily. Dinners and Breakfasts are included in the above rate.
Accommodation is in a Rondavel which has a shared ablution block. Each Rondavel has its own braai/barbecue area should you would like to prepare your own meals instead of eating at the Restaurant. Rondavels contain a fridge, cooking utensils, table and chair, Cupboards, 2 Single beds, Tea and coffee station with kettle and a wash basin.
The lodge of Hilltop Camp has a shop where you may purchase basic foods(meats and Starches), Sauces, tinned foods etc or you may bring your own food items with you if you wish. We can always arrange an option on this "budget" package excluding meals at the lodge if you wish to prepare your own food or have special food requirements. Please email us for more details!