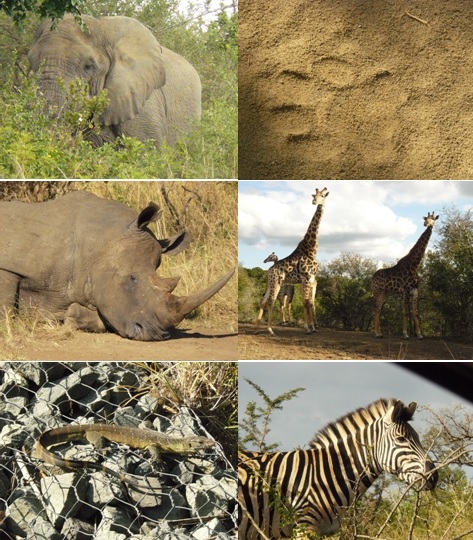 I met my clients at a couple of Hotels/B&Bs in Umhlanga Durban and Surrounding areas. After a short briefing as to how the day would run we set off for Hluhluwe Umfolozi Game reserve in Kwa-Zulu Natal.
After an interpretation of the area for the clients we arrived and settled in to looking for animals which at first was very easy. We bumped into a Journey of giraffe and a Dazzle of Zebra on top of  a hill, some Warthog, Rhino, Buffalo and Elephant but they were far off the road.
We decided to head to the lodge for lunch and better our sightings in the afternoon which we did rather well, we even came across Lions Tracks from the night before but they had disappeared into the thick bush during the middle of the day.
We had a great look at a male White Rhino resting and later found a big bull Elephant near to the road a few kilometers from the gate.
It was a day which had large gaps between sightings and also lots of animals on the hills but we still achieved a lot for a day Safari Tour.
Tim Brown Tours
Big 5 Safaris Durban, Big 5 Safaris Kwa-Zulu Natal, Big 5 Tours Kwa-Zulu Natal, Black Rhino, Bush experience,Bush Safaris, bush tours,Bushman paintings,Drakensberg Hiking Tours,drakensberg tours, Durban Big 5 Safari, Durban Big 5 Safaris, Durban Bush Safaris, Durban Bush Tours,Durban City Tours, Durban Cultural Tours, Durban experiences, Durban Safaris,Durban Shark Cage Diving,Durban Tours, Durban Township Tour, Guiding Ethics, Hluhluwe Umfolozi Tours, Imfolozi Game reserve, Individual Tours Durban, Kruger Park Safari Tour, Kwa-Zulu Natal Battlefield Tours, Kwa-Zulu Natal Bush Tours, Kwa-Zulu Natal Cultural Tours, Kwa-Zulu Natal Safaris, Mountain Tours, Personalised Tours Durban, Private Tours Durban, Private Tours Kwa-Zulu Natal, Private Tours South Africa, Shakaland, St Lucia, St Lucia Tours, Tala game reserve Tours, things to do Durban, Tours Durban,Tours South Africa, White Rhino